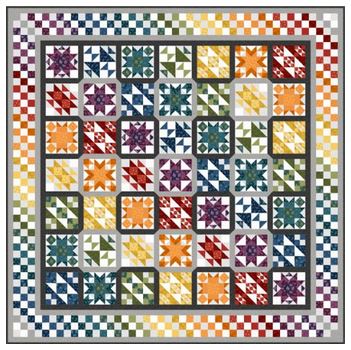 "Rainbow Sampler" Block of the Month
Everyone loves a rainbow – including designer Kaye England. We are so excited to offer "Rainbow Sampler" in a beautiful new 10-month Block-of-the-month program for 2023. The 93" square sampler-style quilt is a marvelous array of slightly dusty rainbow tonal colors contrasted with white, gray, & black.
The first block releases Saturday, January 14, 2023.  Janell pieced the fabulous shop sample and will be available on release days for Sew Along time in the classroom.  This is your opportunity for a monthly jump start to keep on task and get expert advise as well. There are still several spots available if you call the shop now.